PELOSHA is a 3-year research and innovation project carried out within the 2017 call of the EC's AAL programme.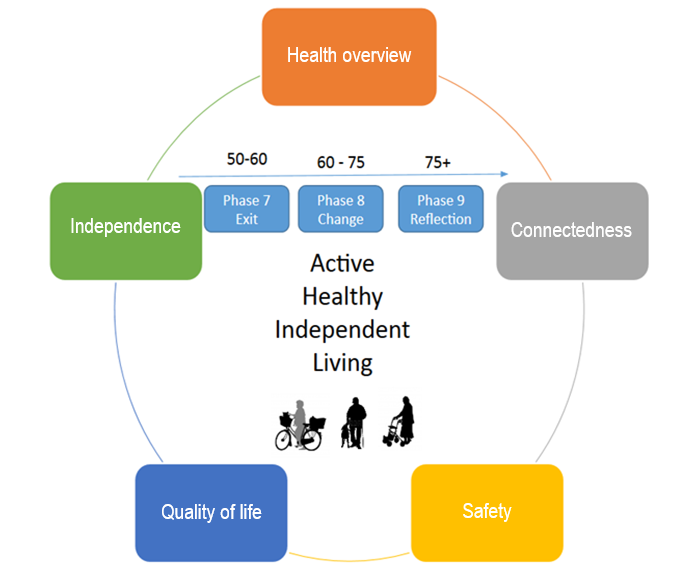 The PELOSHA project aims to create a solution that allows to easily deliver personalized environments for seamless management of own health by diverse groups of older adults. These may include active people before retirement, retired active persons or people living in assisted housing. Since these groups differ in particular health-related needs due to their differing ages and lifestyles, the project shall select a specific use case for its starting market scenario. This scenario shall be verified in a pilot launch of the system, so that the solution can be provided as a product within the months following the end of the project.
As people age, they are faced with ever new problems concerning their health and wellbeing. While technology can help seniors cope with many of them, these very problems make it difficult for the seniors to adopt new technological solutions. The PELOSHA project will tackle this difficulty by developing a highly flexible set of services suitable for users from their fifties onwards. This way, they will be able to start using the PELOSHA system while they do not yet find it difficult to learn new technology, and then the system will evolve with their needs as they age. The services will provide comprehensive health and wellbeing management for older adults, so that they will be able to satisfy most common AAL needs.
The package combines different technological components into a coherent system capable of supporting user needs in managing: mental health, physical and functional fitness, social health, frailty prevention and living with chronic illness. The solution will be modular and extendable, meaning it will be possible to add other specialized services into it in the future (e.g. for the management of Alzheimer).
Project title: Personalizable services for supporting healthy ageing
Project duration: 01/07/2018 – 30/06/2021
Project budget: 3.08 mEUR
Project Coordinator: Michał Kosiedowski (PSNC)